Nobody gives a behind-the-scenes PBR tour quite like "the first couple of the PBR" – the inimitable Jerome and Tiffany Davis.
When the PBR's elite series swung through Greensboro in October, fans had the opportunity to get a down-home insiders' look at big-time bull stock contracting by visiting the Davis Rodeo Ranch in Archdale, N.C.
They were guided by two beloved figures in the sport who, when Jerome's career was cut short by injury, turned to raising bulls who compete in PBR, hosting events in their own arena, and housing and training bulls for outside partners. 
Fans got a soup-to-nuts PBR education along with plenty of laughs as they toured the beautiful 100-acre ranch in golf carts driven by Jerome and Tiffany.
Periodically stopping along a bumpy bucolic path cutting through the rolling pasture, Tiffany introduced each bull, often veering off on hilarious riffs like going engagement ring shopping with a world champion bull rider. 
(The opener, as told by Tiffany: "One day, Jerome says, 'We need to get one of those engagement rings. You better go get one.''')
The couple have "children" – about 70 of them roaming the lush hills. The bulls are fed early, every morning, hot or cold, rain or shine.
"You don't have snow days. You don't have off days. Bull raisin's a 365-day a year job," Tiffany said.
Unlike stock contractors who buy into a bovine athlete, the Davises raise their bulls on their ranch. They go to approximately 20 events in PBR's top two tours each year, including World Finals in Las Vegas, where the couple also gave sold-out tours at PBR Bull Housing behind South Point Hotel & Casino.
Speaking to the fans is a chance to set the record straight on the most misunderstood athletes in sports.
"These bulls don't work for us; we work for them, and they let you know it pretty quick," Tiffany said. "I got 70 bosses to report to every morning."
Fans learned the intricacies of keeping the bulls safe on the road and in the arena with measures such as getting their horns tipped.
"You have to be able to lay a 50 cent piece on the horn," she explained.
"You see that bull over there, that bull without the downward-pointing horns?" Tiffany asked.  "That's Heartbreaker and those are banana horns. We call him Heartbreaker because you can see a heart on his face. Next to him is a muley, which is what we call bulls with no horns. One of the worst hookings Jerome got was from a muley."
Tiffany, queen of the aside pulling Jerome into the PBR lesson, does most of the talking. That's just fine with her laid-back husband, known as "The Carolina Cowboy" back in 1995 when he was the PRCA World Champion Bull Rider.
"I can't hardly hear so I'm loud; he's the opposite," Tiffany said.
She required no amplification at the Davis Ranch but borrowed a portable speaker from her good friend LeAnn Hart in Las Vegas, where the tour swelled to 80 people on its final day.
Stock contractors will bring in chiropractors and acupuncturists, Tiffany explained. Some have purchased expensive laser therapy devices to loosen sore bull muscles.
"These bulls got it better than me," Tiffany said. "I don't get no acupuncture or lasers, I can tell you that."
Bulls are sometimes more finicky than humans when it comes to their food and drink. They're lucky to have stock contractors spoiling them.
For example, at World Finals some of the Davis' bulls are reluctant to drink the Las Vegas water, which tastes different than in North Carolina.
"You want your bulls to be well hydrated. We'll put in a little Gatorade to encourage them to drink it," she said. 
The couple brings their own special hay on the road as well.
"They show the wives of the PBR packing. I wish they showed how we pack for our bulls," Tiffany said. "Oh, we spoil them. By the time I've packed for the animals, I don't care what's in my own suitcase."
The bulls can tell when it's time to travel, she said.
"They see the trailer loading up and they're prancing around like boxers getting their game on. We call it being 'on the muscle.'"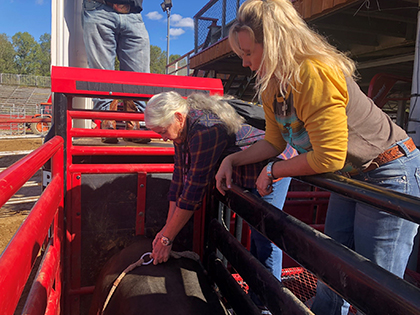 Members of the tour got to "hang the flank" in the chutes to encourage the animal to buck when the gate flies open. They got very close to the 1,800-pound bucking bulls and learned to tie the bull's rope, with Tiffany instructing.
Some fans assume they need to tie the soft cotton rope tight around the animal's haunches. That's not how it's done.
"It's not a Christmas present!" Tiffany said. "Put it loose, to encourage him to kick up, like a kitten tries to get rid of a ribbon light around her paw."
Animals fortunate enough to make to the PBR avert a trip to the slaughterhouse.
"These bulls live out their life with us. They get a grave site," Tiffany explained. "They don't have to worry about getting eaten. I'd be a member of PETA if I could get a chance to sit down and explain how we treat these bulls. They're happy here. You can see it. And they love what they do. You can't make a bull buck if he don't want to."
The fan tours are a chance for Tiffany to spread her passion.
"If it weren't for y'all we wouldn't be able to feed our bulls," she told the group which had registered for the special premium experience, one of many one-of-a-kind experiences PBR offers such as Cowboy Brunch, bull housing tours and seats in the shark cage.
In 1996, Jerome won the most money to date in the PBR, allowing him to purchase the ranch from his family. At first, he and Tiffany lived in the dairy barn, leaky roof and all.
Two years later, a wreck in Ft. Worth left the rider also known as "Jerome Danger" paralyzed.
Jerome's body was broken. The couple's love wasn't.
They quickly found another way to earn a living. They poured the money into buying bulls, haulers, bucking chutes and other equipment to host their own events. 
Spire Capital would then acquire the PBR, producing a windfall for the founders. Jerome used the cash to build an impressive three-story log cabin, complete with an elevator. Tiffany could also say goodbye to the leaky roof.
"For a while, every time it rained, I'd still want to look for a bucket to catch them drops, even when we had the new house," she said.
"Best thousand bucks I'd ever spent," Jerome added, referring to the money he scraped up to invest in the audacious new bull-riding league.
Still youthful today, he had been a fresh-faced 19-year old kid, leaving home to rodeo with his heroes Ty Murray, Ted Nuce, Jim Sharp and Clint Branger.
What an honor to be invited into an exclusive bull-riding league with men he considered to be "a group of Elvises."
Jerome only had $500 to his name, but the happy-go-lucky Carolina Cowboy was all in, promising the balance the next week.
He made the whistle on a few bulls the next weekend, sent in the prize money, and become the youngest owner of the new league.
Today, the 5,000-seat Davis Ranch Arena hosts a handful of rodeo and bull riding events each year. Fans enjoy concessions and shop at a souvenir shed filled with branded Davis Rodeo Ranch merchandise.   
The week before the Greensboro Invitational, the ranch had welcomed the Christian Junior Rodeo, Tiffany's favorite event of the year because the Davises give back to the community just as the community helped when they needed it the most.
Fans who had attended the church service in the bleachers and brought two cans of soup for a local community charity were admitted for free. The event drew 2,000 fans and 500 entries.
A week later on the premium experience tour, Jerome and Tiffany fed their guests a tasty fare of homemade North Carolina barbeque with chicken and dumplings, potato salad and mac 'n' cheese. 
The dessert table was laid out with trays of banana pudding, white chocolate cheesecake and persimmon pudding – "something old southern ladies make, which is why Cracker Barrel don't have it," Tiffany said.  
The food was as good as the homespun insights and laughs served up on a memorable afternoon starring two of the genuine characters making the PBR Family so special.
For more information on PBR Premium Experiences, contact Jenn Pontz at jpontz@pbr.com or 719-470-6156.
© 2019 PBR Inc. All rights reserved.