PUEBLO, Colo. – Evelin Alves had tears in her eyes as Kaique Pacheco walked over to her and gave her a big hug with one arm as his other held the massive $100,000 paycheck he received for winning Last Cowboy Standing.
Silvano Alves' wife has served as a mother figure in ways for Pacheco since the No. 1 rider in the world standings began riding full-time in the United States in 2015.
She was there as Pacheco went on to win the 2015 Rookie of the Year, and she has seen the heartbreak and close comings Pacheco has gone through the last three seasons as he came ever-so-close to winning a PBR World Championship.
Still, nothing compared to seeing him struggle earlier this season.
"He is normally more happy than sad, but sometimes yes it was hard on him," Evelin said. "This year during his slump. For me, I was sad for him the most this year during his slump."
As she began to wipe her eyes, Evelin explained just how hard Pacheco has worked this year to regain the world No. 1 ranking after going 1-for-15 and only being ranked 21st in the world standings a month and a half ago.
"He works hard. Really hard," Evelin said. "He had a slump and a hard time, but he found his way and he fought a lot. God and his girlfriend helped him to get through the slump. Everybody faces a slump, and he passed it.
"I am so happy for him. I am really, really happy for him. He is like a son to me."
Pacheco, who used to live with Silvano and Evelin, won a record-setting third consecutive Last Cowboy Standing title this past weekend by going 4-for-4, including a monumental, career-high 92.75-point ride on two-time World Champion Bull SweetPro's Bruiser.
He then won the event with 88.5 points on Jack Shot.
"I just focus on my bull," Pacheco said. "I close my eyes and thought about having a clear head. I was only thinking about God to give me more faith and make me strong."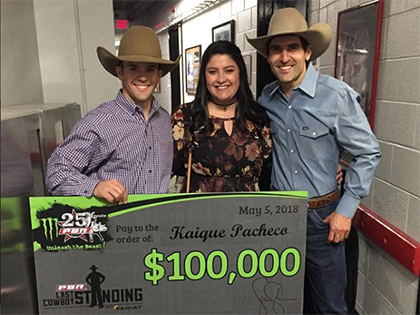 The Itatiba, Brazil, native heads into the summer break with a 239.17-point lead atop the world standings over No. 2 Claudio Montanha Jr. It is the second time in three years he has headed into the break ranked No. 1.
Silvano Alves was the first guy on the dirt to congratulate Pacheco and give him a huge hug.
The three-time World Champion had a look of pride on his face as he watched his prodigy take over the world No. 1 ranking for the first time in seven months.
Alves had said repeatedly this year that Pacheco would turn things around. He was confident in the four-year pro.
Slumps were part of the game, and Pacheco had finally ran into the first major slump of his career this year.
"I am very happy for him," Alves said. "He is the best rider in the PBR and it is hard to win three (Last Cowboy Standings) in a row. For me, he is my best friend.  I help him a lot and I very much want him to do good."
Pacheco began the season only 7-for-27 through the first 11 events and went a stretch of six consecutive events without earning a single point toward the world standings.
He has since gone 19-for-24 (79.16 percent) with two event wins and a 15/15 Bucking Battle victory.
Is Pacheco a better bull rider now than he was when he won his first Last Cowboy Standing in 2015?
"He is the same," Silvano said. "It has been the same all three years. God has a plan for his life. He can do it. He can ride any of the bulls. The past two years was not his moment, but he just needs to take his time."
The first person Pacheco saw leaving the dirt inside the Thomas & Mack Center was Silvano.
"Silvano and Evelin are like mom and dad to me," Pacheco said. "I originally lived in their house and now I live in mine. I am thankful and grateful for everything they have done for me here."
Silvano is just as confident now as he was the past couple years about Pacheco's chances of winning a World Championship.
Pacheco finished runner-up in 2015 and 2016, before a groin/pelvis injury contributed to Pacheco's fifth-place finish last season.
He is 25-for-51 this season with a 49.02-percent riding average, which is the second-best of his career. He rode at a 53.06-percent clip in 2015.
Evelin said the couple has seen Pacheco mature in the face of adversity since rising to stardom in 2015.
With each championship shortcoming, Pacheco grew as a bull rider, while the 23-year-old has matured as a man as well.
"Oh I have seen a lot," she said. "The kid has grown up so much. Everything in his life, his head, everything in his life he has grown up. It is good."
Evelin has witnessed how hard her husband worked when he won championships in three of his first five seasons in the PBR, especially when he rode X consecutive bulls to win the 2015 championship on the final day of the World Finals.
She said that Pacheco is a carbon copy of her husband.
She hopes that is a precursor for a World Championship too.
"He is the same as Silvano," she concluded. "Everything is the same. No doubt. Everything is the same. I hope I am there to see him win this World Championship."
© 2019 PBR Inc. All rights reserved.